Summer Registration -click here
Come and spend a Summer in Italy
with Lifelong Learning.
Three unique and exciting classes about two of Italy's most intriguing cities. Classes will be taught by the Wake Forest University's Casa Artom Teaching Team direct from Venice and one of Lifelong Learning's favorite instructors, Dr. Bernadine Barnes, will be returning to share her knowledge and passion for Florence.
Venice: Reality and Myth
presented by Casa Artom WFU Venice Teaching Team
May 27-July 1, 2021, Thursdays   9:30- 11am
T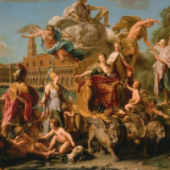 his course, presented by the scholars of Wake Forest University in Venice, looks at the myth of  Venice from a variety of perspectives to explore the ways in which art, history, literature, and  economics intersect to offer a rich and multilayered study of a Venice whose identity, though  renowned, is in fact always shifting. We will examine how myth and reality are interwoven by  exploring the nature of Venice from its origin to the modern age: the myth of Venice regarding its  foundation that developed over time; how that myth has evolved to accommodate changing  economic and political needs; how the city's mythic stature has been reinterpreted by great  writers; and finally, how Venice struggles today to move beyond some ingrained stereotypes. 
Venice and the Environment
presented by Casa Artom WFU Venice Teaching Team
July 8- August 12, 2021, Thursdays 9:30am – 11am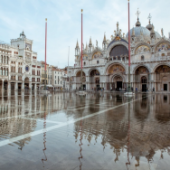 Venice represents a delicate equilibrium between fragility and resilience. In this course we will look  at how Venice's unique and vibrant environment has both posed threats and offered opportunities  for growth and change over the centuries. By examining how city leaders, artists, writers, and  scientists have both reflected and responded to environmental challenges (many of these man made), the scholars of Wake Forest University in Venice offer a course that considers the impact  of the environment on many diverse facets of Venetian society, both past and present.
Casa Artom Teaching Team:
Shaul Bassi is professor of English and Environmental Humanities at Ca' Foscari University of Venice and has taught Italian language and literature at Casa Artom since 1996. He has published extensively on Shakespeare and postcolonial literatures.
Agnese Chiari is senior Lecturer in Art, Venice Program. PhD in Art History (1989). Her own scholarly work focuses mainly on Venetian painting, drawing and graphics in the Renaissance period (15th and 16th centuries) and on Venetian Scuole with more than 120 scientific publications (article, entries, books). She has been teaching at Wake Forest University, Venice Campus (Venetian Art of the Renaissance) since 1981.
Monica Chojnacka Monica was born in Venice but grew up in the United States, where she earned a Ph.D.  in History from Stanford University. She was an Associate Professor of History at the University of Georgia before resigning to move to Europe and teaches History of Venice at Casa Artom. Her research interests include the history of women, social classes, and popular culture. In addition to her scholarly publications she has written a Venetian cookbook.
Roberta Cimarosti holds a PhD in English, co-teaches a course on contemporary Venice at Casa Artom and is an adjunct professor of English at the University of Padua (Italy). Her scholarship ranges from Shakespeare through contemporary literatures in English in which she counts several publications.
Caterina Cruciani holds a PhD in Economics from Ca' Foscari University where she is currently Assistant Professor in Financial Intermediaries and Markets. Caterina has been part of the Wake Forest family for over 6 years and she teaches Introduction to the Italian economy to the students visiting Casa Artom.
Luca Zaggia is a marine scientist currently working for the Institute of Geosciences and Earth Resources of the Italian National Research Council. Over the last 30 years, Luca has studied the dynamics and morphology of the Venice lagoon and the impacts of human activities on the coastal habitat. He taught sedimentology, oceanography, and coastal geomorphology to classes from different universities: Cà Foscari (Venice), Sacred Hearth (USA) at Dingle campus (IR), and Wake Forest University (USA) at Casa Artom (Venice).
 Florence: Its City, Its People and Its Art
presented by Bernadine Barnes
July 26- August 18, 2021, Mondays and Wednesdays  1pm – 2pm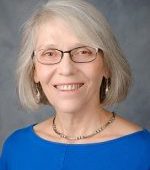 This course will focus on the city of Florence before, during and beyond the Renaissance. How did Florence become such a center of art and culture? How did various communities in Florence find ways to express themselves? Our class will meet online, twice a week. On Mondays, we will imaginatively walk through the city at a particular moment, observing the life of the city, and the buildings and public monuments underway at that time. On Wednesdays we will dive a little more deeply into specific works. For example, we might consider a fresco series or how a large scale sculpture came into being. In every class, we'll try to imagine how people of the time interacted with the works, and how artists responded to political, religious and social developments.
Bernadine Barnes has been a professor of Renaissance art history at Wake Forest University for more than 30 years. She is interested in how contemporary audiences of differing genders or social groups gain access to works of art and how contemporary viewers respond to images. She has a special interest in the history of prints and has contributed essays to exhibition catalogs published by the National Gallery in Washington and Stanford University; she has also worked with students to curate nine exhibits at Wake Forest's Hanes Art Gallery. She has written four books including, Michelangelo in Print (Ashgate, 2010) and most recently, Michelangelo and the Viewer in his Time (Reaktion, 2018).
On-line Fee Schedule:
$175 per online course/$160 per online for WFU Retiree, Graduate, Staff.
Summer Registration -click here!
Contact Us
If you have questions about the Lifelong Learning program, please contact us so we can help you!
Lifelong Learning
Wake Forest University
P.O. Box 6103
Winston-Salem, NC 27109
336.758.5232
lifelonglearning@wfu.edu