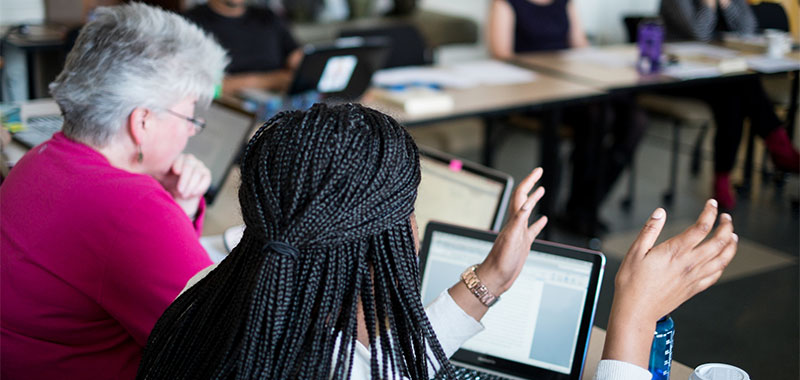 Everyone is learning all the time through media, books, visits to sites of history and significance, and in many other ways. Yet without an expert guide and structure for thinking, reading, discussing, and exploring further, that personal learning can often be scattershot with one new fact or insight not connected or integrated with another.
Our lifelong learning courses focus on particular topics with provocative presentations by faculty that often make for "a-ha!" moments of new knowledge. This is why so many people keep coming back term after term. We call our program "LEARNING FOR LIFE" because we are all continuously learning, and because our courses make a generous space for enriching our lives.
Who teaches Lifelong Learning courses at Wake Forest?
All of our teachers are professors in the university, with a handful of exceptions for faculty from other local universities or community experts. Wake Forest advances the ideal of the "teacher/scholar" – professors who are excellent teachers and constantly striving to become even better, while at the same time pursuing scholarship, research and writing in their own fields of study. This makes Wake classrooms among the liveliest learning experiences anywhere.
We are excited to contribute to Winston-Salem's cultural life by connecting faculty with the community and enabling community members to meet and engage with Wake Forest faculty.
Who participates in Lifelong Learning?
Our program attracts people from many different backgrounds, life experiences, and stages of life. Anyone is welcome who is looking for a fresh opportunity for learning in a non-credit course without any requirements or grades. What our participants hold in common is a desire to keep learning and expanding their horizons.
Wake Forest has developed a truly distinctive program:
We do not charge a membership fee
Our courses are not aimed only at adults over 50
Our courses are taught almost entirely by Wake Forest faculty members or teachers with equivalent credentials
Our courses are academic in nature; we do not offer courses in skills, crafts, or other activities
How does the Lifelong Learning program collaborate with related activities around town?
We are proud of our relationships with a wide variety of community organizations. Many of our participants are also active in these organizations.
Bookmarks (Winston-Salem's own local and independent non-profit bookstore)
The Arts Council
Reynolda House Museum of American Art
a/perture cinema
and others
What if I find myself wanting more depth and a chance to study and write in topics that interest me?
The Office of Continuing Studies also coordinates a  Liberal Arts Studies Master of Arts degree. In this 30-credit-hour program, students can choose among interdisciplinary courses created especially for this degree, and from graduate-level courses across the university. Students conclude their studies with several options including a typical Master's degree thesis, or a Capstone Project.
CONTACT US
If you have questions about the Lifelong Learning program, please contact us so we can help you!
Lifelong Learning
Wake Forest University
P.O. Box 6103
Winston-Salem, NC 27109
336.758.5232
lifelonglearning@wfu.edu
FACEBOOK